I'm at an age where the majority of my peers are getting engaged, married and/or pregnant. Also, thanks to social media, it's easier than ever to promote the latest cause you're raising money for. It is really fun to have so much to celebrate and have so many do-gooders out there but it can get really expensive!
I've done my fair share of events to raise money for charity and my friends and family are always generous. I love being able to do the same for them. Additionally, I love thinking of, ordering or making gifts for my loved ones for nearly every occasion I can think of! For example, I just gave these adorable pillows to my BFF as an engagement present since their relationship started by playing Scrabble on Facebook.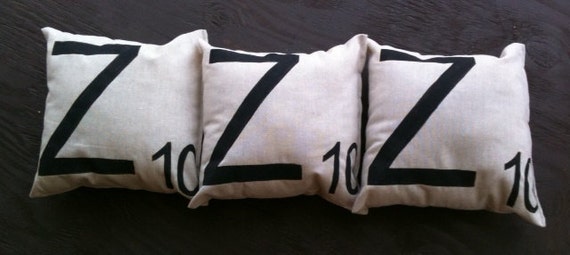 But…
this month so far I've spent $89 on gifts and donations, which made me wonder if that's normal for someone trying to aggressively get out of debt.
When I referenced the experts, here's what I found:
In his list of 33 ways to reduce personal debt, Becoming Minimalist says,
**Many wonder about Number 33 (Give) because it seem counter intuitive to most of us. One thing we never stopped doing – even in the worst of times – was giving. We always gave money to our church, our favorite charities, and foundations that we believe in. It's easy to say "I can't give. It's not in my budget." But if we're looking for a lifetime of success and influence – not just the latest gadget or status symbol – how can we afford not to give? Giving reminds us that we can live for a purpose greater than this world and all the temporary treasures it offers. It helps keep everything else in perspective. So pick and choose from our list above – do one or two or everything on the list – but don't leave out number 33. We can attest from firsthand experience, it will radically transform your life!
However, Anna at And Then We Saved listed her wants vs. needs to determine her spending fast. Donations didn't make either list and here's what she says about gifts,
Gifts (sorry friends and family… homemade crafts or re-gifting will be happening. Hopefully you all like macaroni magnets.)
When I see $89, knowing that it will be closer to $100 by the end of May, part of me thinks it would be an extra $89 to go towards debt. But honestly, after consideration, I don't think I will reduce my giving in favor of debt, as badly as I want to be debt free. When it comes down to it, my loved ones are more important than my finances. Without their support I would not be able to pay down debt so quickly so to me, it works. I know that my relationships would still be in tact if I didn't give and donate but I truly enjoy finding ways to show how much I care. Whenever possible, I do use coupons or find affordable ways to show my love because I can't be excessive with donations and gifts, but it's a habit that I don't plan to quit.
If you are or have gotten out of debt, what was your stance on gifts and donations?